Non-Alcoholic Christmas Drinks for Holiday Parties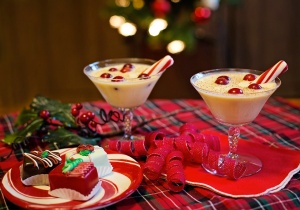 There are many reasons to not partake in the alcohol during the holiday festivities, but that doesn't mean you can't enjoy something a little tastier (and prettier) then sparkling water in a wine glass. Whether you're on a journey to long-term recovery or you just want to cut back on the alcohol in preparation of Dry January, Acceptance House Sober Living offers up these 10 deliciously festive non-alcoholic Christmas drinks to serve at your party!
10 Delicious Christmas Non-Alcoholic Mocktails
Classic Eggnog: Enjoy this holiday classic without any of the liquor. You can buy your favorite premade mix and simply omit the bourbon or rum. If you're feeling adventurous, here's our favorite recipe for a homemade version.
Blood-Orange Italian Soda: Although you do have to make your own syrup, the results are well worth it. Not only does this holiday mocktail taste amazing, but the color is perfect for an all-girls brunch or dinner party.
Cranberry Pomegranate "Bellinis": This is the perfect option for a Christmas or holiday brunch party! Simply combine cranberry & pomegranate juice, top with seltzer and some fresh lime juice.
Grinch Punch: If your guests have a sweet tooth or there's kids in attendance this is a must-have Christmas inspired mocktail! Simply make 2 packets of Lemon-Lime Kool Aid then add sugar, pineapple juice, lemonade concentrate and Sprite. Add a red sugar rim around the glasses for an extra festive touch!
Crimson Christmas Punch: This non-alcoholic holiday punch can be served with dessert. A big batch bowl calls for raspberry sherbet, ginger ale, tropical punch, cranberry juice, pineapple juice and a splash of lemon.
Candy Cane Sparkler: This is an upgrade to a classic Sherley Temple. Simply add a splash of grenadine to your preferred flavor seltzer water (lime, orange or cran-raspberry are our favorite) and top with a mini candy cane.
Cranberry Fizz: This super-simple mocktail is perfect for large, hectic gatherings. Simply combine ginger ale, cran-apple juice and a lemon or lime. If you have extra time coat the rim with cinnamon sugar.
Sparkling Mocktail: Cheers to the holidays with a super easy to customize sparking mocktail. All you need is a bottle of sparking white grape juice and your preferred frozen fruit (raspberries, strawberries and blueberries work best).
Apple Cider "Martini": Who said mocktails can't be fancy? While it takes a bit of work to make, the results are a deliciously spiced apple cider mocktail.
Sparkling Spritzer: If your favorite part of a party is holding a glass of wine, this is the recipe for you.