Transition from Treatment to a Men's Sober Living Home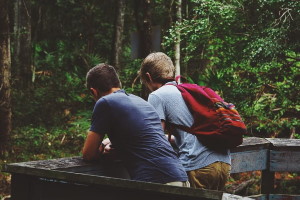 After the completion of a program at a residential drug treatment center your road to recovery is just beginning. Your counselors, therapists and sponsors will recommend you continue your journey by transitioning to a men's sober living home to give you the best chance at long-term sobriety. There are many benefits of a sober living house when it comes to transitioning from rehabilitation back to your normal life free of drugs & alcohol. However, gender specific environments play an even greater role in the process.  Acceptance House Sober Living has highlighted the top 5 benefits of moving into a men's sober living home after you've completed your addiction treatment program.
5 Excellent Benefits of Men's Sober Living Homes
Maintain Accountability: Due to the rules & regulations at your specific home, male residence are held accountable for their actions and behavior. Mandatory meetings, curfews, chores are just a few ways in which you will re-learn structure and responsibility. Moreover, staff members, peers and your sponsor provide support, assistance and motivation.
Read More: Sober Living Home Success Strategies
Build Strong Friendships & Resource Network: Building your network of sober resources, support groups, friends and mentors is one of the most important ways to ensure you maintain long-term sobriety. A goal during your stay at a men's sober living home should be to gain as many trusting relationships as you can so you have unlimited support when you transition back to your normal life.
No Romantic Relationships: In many ways, romantic involvements can be a distraction to the ultimate goal of sobriety. The first two years of your journey should be focused on self-reflection, healing and building a life free from drugs & alcohol.
Discover Sober Activities: Your men's sober living facility will help you discover fun sober activities and hobbies. Fitness & exercise, art and culture, volunteering, reading and other such hobbies will take the forefront in your life to keep you having fun without the need for drugs and alcohol.
Regain Freedom & Purpose: Suddenly faced with increased responsibilities including paying bills, maintaining a home and cooking for yourself can seem overwhelming.  At your men's sober living home, residents, sponsors and the house manager will help you slowly get re-accustomed to an independent lifestyle.
Gender Specific Recovery Housing
Acceptance House Sober Living provides all male and all women transitional living facilities throughout Bucks County, PA and Southern, NJ. If you're still unsure if moving to sober living is the right move, read our blog Signs it's Time to Transition into Sober Living. Our support staff provides all of the necessary resources needed for long-term recovery, personal & professional growth. Begin your path to recovery and living a meaningful, sober life by calling 856-465-7310 to speak with a member of our team today.